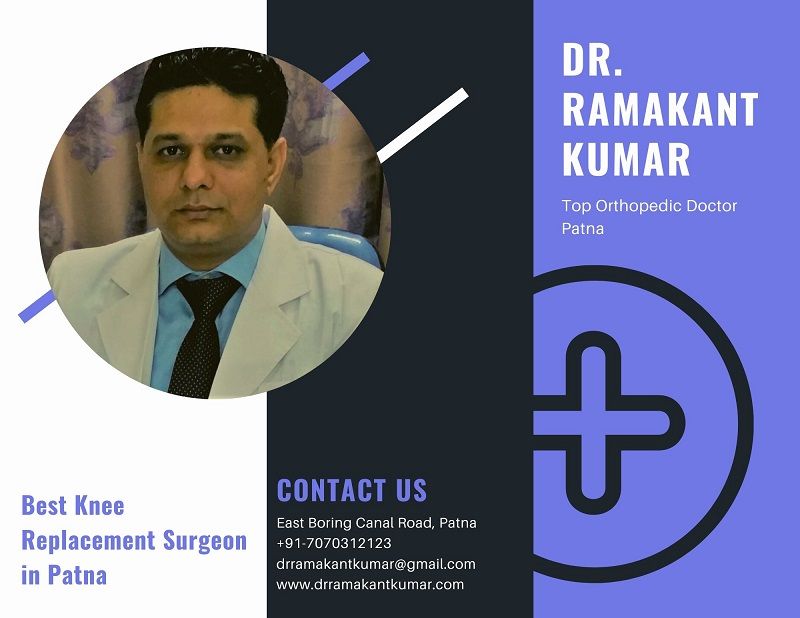 Suffering from Knee Joint Pain and thus desiring Knee Replacement Surgery in Patna?? Dr. Ramakant Kumar will be the person for you to go for.  As he is the top Knee Replacement Doctor in Patna. Go for him, if looking for best knee surgery Patna. 
A Total Knee Replacement is a surgical procedure whereby the diseased knee joint is replaced with an artificial material. Knee replacement surgery is often the last resort treatment of painful arthritic knees. Patients are considered for knee surgery when a trial of conservative therapy (Medications & physiotherapy) fails.
The procedure of the surgery involves cutting away damaged bone and cartilage from your thighbone, shinbone and kneecap and replacing it with an artificial joint (prosthesis) made of metal alloys, high-grade plastics and polymers.
The term Knee joint replacement is actually a misnomer; the right terminology should be knee joint resurfacing. However, contrary to the popular believe whole knee joint is not sacrificed rather the only 8-10 mm thickness of bone is removed.
Therefore, the need for such complicated surgery must be assessed by a professional orthopedic surgeon like Dr. Ramakant Kumar, Best Doctor for Total Knee Replacement Patna. This is because he has performed numerous Total Knee Replacement Surgery in Patna with exceptionally low rate of complications and high patient satisfaction score.
What Leads To The Requirement of Full Knee Replacement Surgery?
There are multiple causes of arthritic changes in the knee joint
Osteoarthritis (Age-related damage/degeneration of cartilage )
Rheumatoid arthritis (Auto immune disorders )
Further, post Traumatic (Following injury/Trauma/Fracture )
Post Infective (Following infection )
Thus, if suffering from any of the above mentioned conditions and looking for Total Knee Replacement Patna, Then book appointment with Dr. Ramakant immediately. This is because he is considered as the Best Total Knee Replacement Doctor in Patna Bihar , Who is well versed in performing all the Knee-related surgeries.
Who are at high risk of developing Osteoarthritis Knee?
Growing age is an important risk factor
Obesity/ Overweight
Female sex; osteoarthritis is more common in the female population
Moreover, persons involved in a high level of physical activities (Athletes/ Military personal )
Family history
What Tests are needed to diagnose Osteoarthritis knee?
X-ray of both the knees in the standing position is sufficient to make a diagnosis
Nonetheless, doctors sometimes need MRIs.
What are the grades of Osteoarthritis?
According to Kellgren and Lawrence, there are four grades of osteoarthritis knees; grade depends on the amount of gap between the two bones of knee joint in the x-rays. Moreover, grade I to III do better with medications & physiotherapy. Nevertheless, patient with grade IV osteoarthritis usually require surgery.
When to Consider Total Knee Replacement Surgery?
A knee injury such as ligament tear or meniscus tear
A knee deformity that one is born with
At times, when pain becomes severe enough that warrants daily use of pain killers.
When pain prevents you to do the routines of daily living/ activities
Further, severe deformity associated with arthritis
What implants are used in surgery?
Knee implants are usually made of bio-compatible alloys namely Titanium/ Cobalt-chrome alloys
However, there is highly cross linked plastic insert, which is placed between two metal surfaces.
What is the life span of knee implants?
Multiple follow up studies have shown that they can last up to 15-25 Years. Longevity of an implant depends on multiple factors.
What is the Right age to consider Total knee replacement?
Age is not a bar to consider this surgery. Each candidate is evaluated on individual basis.  Treatment usually depends upon the severity of symptoms and deformity. Nonetheless, there is no upper limit age to consider this treatment; as long as patient is active & fit, knee replacement can be done.
For best Knee Surgery Patna, go for Dr. Ramakant Kumar. He is the ultimate, when it comes to best knee replacement surgery in Patna.
Purpose of Knee Joint Replacement Surgery
Purpose of this surgery to replace the damaged cartilage with a metal surface; correction of deformity and knee alignment
What tests/ Investigations are needed before the surgery?
Before surgery, your doctor will assess your overall health and anesthesia risks. This evaluation will include:
A full medical history
a physical examination
Further, routine blood tests
Recent X-rays of the knee and Chest
other imaging tests if needed
Pre-anesthetic check-up to assess fitness for surgery
Is the Bilateral Knee Replacement safe?
If both the knees are equally painful, then both the knees can be done in the single sitting. However, patient selection is very important for bilateral knee replacement. We consider, if patient meets below mentioned criteria:
Age <70 years
Hemoglobin > 11gm
No history of Ischemic heart disease / CVA/ Morbid obesity
Procedure for Total Knee Replacement Surgery
Surgeon usually do knee surgery Patna in Spinal/ Epidural or General Anesthesia. However, which mode of anesthesia will be right for the patient is decided by the team of anesthesia doctors & it depends upon multiple factors.
Actually, surgical procedure takes approximately 60-90 minutes. Usually Knee Replacement Surgeons keep the patients in ICU, for observation purpose. Further, they shift them to their respective room.
How long does a new knee last?
Replaced knee can wear out, at which point a second knee replacement may be needed. However, researchers say that over 82% trusted source of replacement knees are still functioning 25 years later.
Therefore, if you are considering to undergo a Total Knee Replacement Patna a looking for a trusted doctor then, you must consider Dr. Ramakant Kumar. His Knee Replacement Surgery Cost in Patna is also very much feasible as compared to other Doctors for Total Knee Replacement in Patna.
Complications of Knee Replacement Surgery
Almost all surgery involve some complications. Thus, after knee replacement surgery, there may be a risk of:
Infections
Blood clots
Continuing pain, even when surgery is successful
Stiffness
Most people don't experience severe complications and are very happy that they had their knee replaced.
Being the Best Doctor for Total Knee Replacement in Patna, Dr. Ramakant Kumar assures his every patient that the complications related to his performed surgeries will be minimum. He also promises his patients to assists even post Knee Replacement Surgery in Patna for quick recovery process.
About Robotic Knee Replacement
Knee Replacement Specialist usually offer robotic-assisted total knee replacement to patients with severe osteoarthritis.
What Actually Happens During Total Knee Replacement Surgery?
Usually surgeons while knee replacement surgery, remove the knee  arthritic portion. Further then cover it  with a combination of plastic and metal parts, forming the new surfaces of the knee joint.
However, during robotic total knee replacement, surgeons use computed tomography (CT) scans. This is done to build up a virtual model of the patient's knee.
Post Total Knee Replacement Surgery Recovery
To control pain after the surgery, we follow multi-modal approach. Surgeon inject a cocktail of drug in the tissues surrounding the bone, during the surgery. This reduces the need of pain killers in post-op period. However, post-surgery if required, pain killers can be given via Intravenous/ Intramuscular / epidural routes.
Now a days we have the facility of PCA pumps (Patient-controlled anesthesia), where patient can self control the amount of analgesics needed as per the requirement.
We start mobilizing the patient same-day or next-day depending up on patient comfort. Patients can bear full weight with the help of walker from the next day. Knee range of motion exercises starts gradually.
Surgeon discharge patients on 4th or 5th-day post-surgery
Surgeon proceed with Suture removal, after 14th Day of knee surgery.
What You Can Do After Total knee replacement?
Brisk walking
Jogging
Swimming
Non-contact sports (Golf/ Table tennis/Badminton)
squatting
Dancing
What I can't do after the surgery
Running
Trekking
Playing contact sports (Football/ Cricket/ Rugby)
Dr. Ramakant Kumar – Best Total Knee Replacement Doctor in Patna Bihar
Ranked among-st the top 5 orthopedic doctor in Patna, Dr. Ramakant Kumar is the best Knee Replacement Doctor in Patna. He is specialized in performing various Knee-related surgeries like Partial Knee Replacement Surgery, Knee Arthroscopy Surgery, and Total Knee Replacement Surgery in Patna. He has also successfully introduced and integrated new advancements in the treatment of Knee surgeries.
Via using advanced technology in knee replacement surgery in Patna, coupled with expert surgical skills, the doctor has turned out to be a boon to patients suffering with chronic arthritis in the joints.
Dr. Ramakant Kumar (aka Sports Injury Doctor in Patna) do employ Navigation Technology in Total Knee Replacement Surgery.  This is highly effective, when it comes to reducing knee replacement pain.
In this particular technology,Knee Replacement Doctor Patna uses computer to determine the spatial location of conventional instruments.
Moreover to provide feedback regarding their usage.
Camera watching the sterile field
Trackers attached with the patients and instruments
Lastly, display screen, feeding back to the surgeon.
This Navigation Technology basically works like a satellite navigation in car or a GPS system utilized by a mountaineer. Meanwhile surgery, tracker attached to the patient send a signal.
The camera catches this signal and identify the position on the patient specific anatomy map.
Usually, while placing an implant during Knee Joint Replacement Surgery, surgeon rely on his calculations and skills. This assures him/her of the right fitment.
Navigation helps Knee Replacement Doctor navigate, enabling him/her plan the steps much ahead. Therefore, bringing in accuracy, ensuring better alignment and implant positioning.
So, overall Navigation Technology is the most enhanced and best effective method to pursue Total Knee Replacement or Full Knee Replacement.
Dr. Ramakant Kumar is Best Orthopedic Surgeon in Patna, who do make use of this Technology for Knee Replacement. So, contact him, if looking for best Total Knee Replacement in Patna.