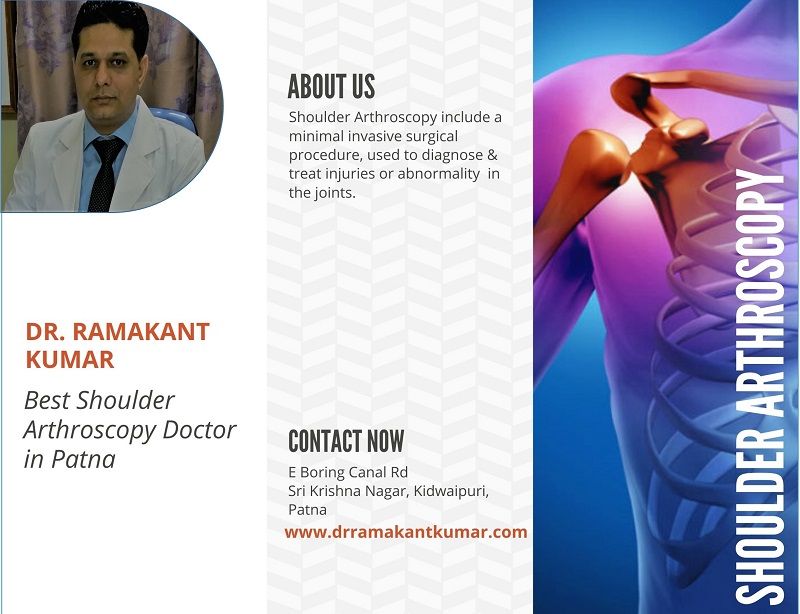 Looking for the best Shoulder Arthroscopy Doctor in Patna, contact Dr. Ramakant Kumar. To know why he is the Best Shoulder Specialist in Patna, read this blog.
But before that let's look at what is Shoulder Arthroscopy, its conditions, complications and so on……
What is Shoulder Arthroscopy?
In Shoulder Arthroscopy, the surgeon uses a minimally invasive surgical procedure to visualize, diagnose and treat various problems inside the shoulder joint. This they do by making small incisions (<1 cm) called "portals" that allow the insertion of specialized thin tubular instruments called Arthroscope.
An Arthroscope is a pencil-sized small tools that contains magnifying lenses and a light source. The surgeon then  attaches a small camera to the Arthroscope that projects the clear image of the joint on a monitor TV, allowing the surgeons to see all the structures inside the shoulder.
The main advantage of Arthroscopy surgery is the minimal incision requirement for diagnoses and has a faster recovery rate than the open surgery procedure.
Being the Top Arthroscopic Surgeon Doctor in Patna, Dr. Ramakant Kumar is well versed in all the surgical procedures of Arthroscopic Shoulder Surgery and Shoulder Replacement Surgery in Patna. He has performed numerous cases of Shoulder Arthroscopy in Patna with a high success rate, which makes him the Best Shoulder Arthroscopy Doctor in Patna.
Let's move on to next section to know what all conditions can be treated with a Shoulder Arthroscopy……….
What all Shoulder Conditions an Arthroscopic Procedure can Treat?
Shoulder Arthroscopy has been proved as boon in sports injuries. Blood loss during surgery is minimal, recovery is quick and thus patients can go back to their previous level of sporting activities in a short span of time.
A Shoulder Arthroscopy surgery treats the following conditions:
Recurrent shoulder dislocation
Bankart repair
Rotator cuff repair
AC joint reconstruction
Biceps tenodesis/Tenotomy
Subacromial decompression for impingement syndrome
If you are suffering from any of the above mentioned conditions and looking for the Shoulder Replacement surgery in Patna, it is highly advisable to contact Dr. Ramakant Kumar. This is because he has successfully performed several cases of Shoulder Arthroscopy Patna, Bihar.
What are the Possible Complications of Shoulder Arthroscopy?
Although, shoulder arthroscopy is a very safe surgical procedure, there are some possible complications that should be concerned before going for the surgery.
Infections, joint stiffness, excessive swelling or bleeding, blood clots, damage to blood vessels or nerves, are some of the potential complications. However, these complications occurs in far less than 1% of all arthroscopic procedures.
Being the Best Arthroscopy Surgeon Patna, Dr. Ramakant Kumar, assures his every patients that the complications associated with his surgical procedure will be minimum. In addition to that, he also promises his patients to assists them even after the surgery for speedy recovery.
Benefits of Shoulder Arthroscopic Surgery?
Benefits of shoulder arthroscopic surgery as compared to other open surgeries include:
Minimal scars
Decreased pain and swelling
Improved motion
Quicker functional recovery
Fewer risks and complications
As, Arthroscopy surgery has reduced the length of hospital stay significantly. Therefore, patients usually gets discharge on the same day of the surgery.
Who is the Candidate for an Arthroscopic Procedure?
Shoulder Arthroscopy surgery is used to treat a variety of shoulder problems, including arthritis, tendonitis, impigmentation, rotator cuff tears and shoulder instability.
If the patient experiences any of the above-mentioned conditions or has pain in the shoulder joint that is not responding to non-surgical shoulder pain treatments than Shoulder Arthroscopy is recommended.
The need for arthroscopy must be assessed by an experienced physician, much like Dr. Ramakant Kumar, Best Arthroscopic Shoulder Surgeon Patna.
How Long Does an Arthroscopic Procedure Take?
Shoulder arthroscopy surgery uses less anesthesia than a regular shoulder replacement procedure. Most arthroscopic surgeries are about an hour in length. Therefore, almost all patients can return home on the same day as the procedure.
How to perform a Shoulder Arthroscopy Surgery?
The surgeons performs Arthroscopy surgery in an out-patient surgery setting. It is although much easier in terms of recovery as compared to open surgery, but still requires the use of anesthesia.
Firstly, the surgeon performs a Shoulder Arthroscopy Anatomy. After that they make a small incision to insert the Arthroscope. However, surgeons can also make several other incisions to see other parts of the joint or to insert other instruments. Then, they fill the joints with steroid fluid that allows the them to see more clearly.
When indicated, corrective surgery is performed with specially designed instruments that are inserted into the joints through the accessory incisions. The repair is then performed inside the joints and the incisions are closed with the sutures. The most procedure generally takes less than one hour to perform.
Because of the exceptionally low rate of complications and high patient satisfaction scores, it is better to choose Dr. Ramakant Kumar as has renowned Orthopedic Specialist in Patna.
What Results to Expect Following an Arthroscopic Procedure?
Although Arthroscopy is not an "open" surgery, but it may takes several weeks to months for pain to totally subside and motion to be restored. To reduce swelling and discomfort, some medications may also be prescribed.
The patients need to wear a sling initially, to protect the shoulder and reduce shoulder movements, this allows the shoulder proper time and space to heal.
Once the shoulder has an adequate time to recover from the procedure, a physical therapy schedule maybe recommended. This helps the shoulder to stretch, exercise and recondition the shoulder from resumption of an active lifestyle. The  length of the surgery depends on the type of surgery and repair performed.
Dr. Ramakant Kumar | Shoulder Specialist in Patna | India
Ranked amongst the top Doctors for Arthroscopy in Patna, Dr. Ramakant Kumar has developed an enviable reputation as the Best Shoulder Arthroscopy Doctor in Patna.
He have the privilege of acquiring the requisite acumen and skills in Orthopedic surgery from prestigious AIIMS, New Delhi.
He is a committed Top Arthroscopic Surgeon Doctor in Patna of international reckoning with several publications of PUBMED repute. In addition to that, his renowned clinic for its exceptionally low rate of complications and high patient satisfaction scores makes him the Best Arthroscopy Doctor in Patna.
Being the finest Arthroscopy Ligament Surgeon in Patna, Bihar, he has done many international fellowships in minimally invasive Shoulder Arthroscopy Surgery. His clinic's quality ratings are excellent amongst the other Orthopedic Clinic.
So, if you residing near the boring road, Patna and in search of Best Shoulder Arthroscopy Doctor in Patna, contact Dr. Ramakant Kumar……..