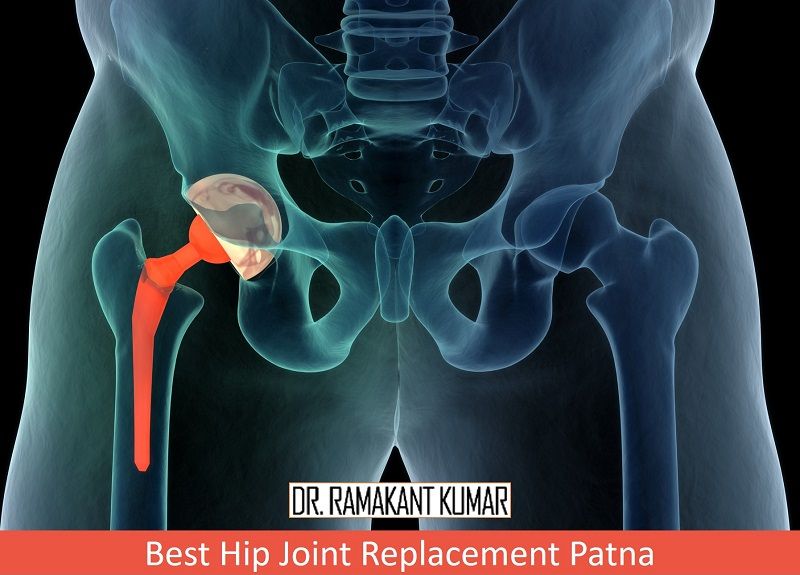 Hip Joint Replacement is the removal of a painful hip joint and its replacement with artificial joints often made from plastic and metal components. These artificial joints help reduce pain, improves functions and make walking easier.
Hip replacement surgery treats certain types of hip fractures. However, arthritis is the most common reason, leading to the requirement of Hip Joint Replacement surgery. When all other treatment options fails to provide adequate pain relief, then doctors recommend Hip Joint Replacement Surgery.
This Total Hip Surgery is a complex process, and thus these surgeries must be assessed by a profession Orthopedic Surgeon like Dr. Ramakant Kumar, Best Total Hip Replacement Doctor in Patna.
He has performed numerous cases of Hip Replacement Surgery in Patna with a high success rate and is also referred as the Best Total Hip Replacement Surgeon in Patna, who is well versed in performing all kind hip- related surgeries.
Hip Replacement Symptoms
Signs which shows that you may need Hip Joint Replacement Surgery include:
Pain, preventing you from walking or bending the joints
Stiffness in the hip, preventing you from lifting your legs
If you have osteoarthritis and that is wearing you down physically, emotionally and mentally.
No relief from non-surgical treatment methods
If you had a severe injury to your hips
If suffering from the any of the above mentioned symptoms and looking for a Popular Orthopaedic Hospital, Patna, it is highly advisable to consult Dr. Ramakant Kumar.
This is because the cost for this surgery of most of the Best Hip Replacement Surgeon in Patna is generally high. But in Dr. Ramakant clinic's, which is also referred as the Best Hip Replacement Hospitals in Patna, Hip Replacement Cost is highly feasible.
However, there is no need for Total Hip Replacement Surgery in most of the hip-related problems. Because, a range of treatment options are available including physiotherapy, medication and hip re-surfacing that may better address your symptoms.
Types of Hip Replacement surgery
To treat hip conditions such as severe osteoarthritis and hip fracture, surgeons performs Hip Joint Replacement surgery. The two main approaches to performing these surgeries include the Posterior Approach and the Anterior Approach.
Posterior Approach
This type of hip surgery involves the surgeons creating 4-6 incisions along the outer buttock, the splitting of the gluteus Maximus muscles, and the detaching.
The head of the femur is removed and a metal stem is placed in the hollow part of the femur. This is then followed by the placement of a metal or ceramic ball on the top of the stem that acts as a new head of the femur.
Then the socket of the hip joint is removed and replaced with a new metal socket. The surgeon then places a spacer between these two parts made of plastic, metal, or ceramic in order to decrease friction within the hip joint.
Anterior Approach
With Anterior Approach of total hip replacement surgery, the surgeon actually makes an incision on the front part of the upper thigh. The removal of the damaged joint and then the addition of the implants is similar to the posterior approach.
This approach may allow a significant decrease in the risk of dislocation and an earlier return to activities. But it is also more challenging surgery with higher risks of injury during surgery due to the position the patient must be in.
Top Things to Look for Before Consulting an Orthopaedic Surgeon
It is important for a patient to know how to choose the right surgeon for their hip replacement surgery. So, look for the following mentioned points before consulting a Total Hip Arthroplasty Surgeon.
He/she must be a board-certified orthopaedic surgeon who specializes in hip replacement.
How many Hip Joint Replacement surgery he/she has conducted.
His/her overall success rate.
One who accepts your insurance.
With whom you are fully comfortable in talking about your problems and who fully answers your questions.
The estimated recovery time and whether they will be involved with your aftercare.
However, if you are considering a successful hip joint replacement Patna, it makes sense to choose Dr. Ramakant Kumar, the best orthopedic doctor in Patna, over other medical institutions.
Because of his devotion to performing invasive surgeries at an affordable Hip Joint Replacement Cost in Patna, he has been categorized under the Top 5 Orthopaedic Doctor in Patna.
Note: His charges are affordable, when its about Hip Replacement Surgery Cost in Patna.
Who needs a Hip Replacement Surgery?
Hip replacement surgery is usually performed when joint becomes diseased & Arthritic. Moreover, if a person has these symptoms then he/she should consider a Hip Replacement Surgery:
Severe pain which doesn't relieve by medication and that interferes with the daily work, sleep or everyday activity
Also, hip stiffness that restricts motion and makes it difficult to walk.
Additionally, the most common cause of chronic hip pain and disability is arthritis. Though, there are different types of arthritis which can affect hip joint.
Rheumatoid Arthritis — an autoimmune disease of the synovium, which destroys the cartilage
Ankylosing spondylitis with Fused hip joints
Traumatic Arthritis — damage to the joint caused by trauma, injury, Fracture
Primary Osteoarthritis — a degenerative form of arthritis, multifactorial causative factors, uncommon in India
AVN (avascular necrosis of femoral head), stage III & IV Usually requires hip replacement
Post Infective : Destruction of cartilage following infection; TB, Sceptic arthritis
As a sequel of developmental disease of hip; Neglected DDH, Dysplastic hip , Sequel of perthes
Hip Replacement Complications
During Hip Joint Replacement Surgery, a surgeon removes the damaged section of your hip joints.
Furthermore, the doctor replaces this damaged section with parts usually constructed of metal or very hard plastic.
Risks and complications associated with Hip Replacement surgery may include:
Blood clots
Infections
Fracture
Dislocation
Change in leg length
loosening
Additionally, total hip joint replacement or hip arthroplasty can involve blood loss too. Therefore, patients going for replacement often store their blood before the surgery for transfusion.
Some Common FAQs Related to Hip Joint Replacement Surgery
Can Hip Replacement Be Performed After Fracture Around The Hip Joint?
Yes especially in femoral neck fracture in the elderly and in some cases of comminuted inter-trochanteric fractures.
What Is Hemi Replacement Arthroplasty (HRA) & How It Differs From Total Hip Replacement (THR)?
Socket (Acetabulum) is not replaced in HRA, while in THR socket is replaced with artificial cup.
What is Cemented & Uncemented THR?
Cemented THR: Bone cement (PMMA) is used to fixed the femoral stem & Cup
Uncemented THR: Cement is not used, Components are coated with properties to promote bone in-growths, and hence it's more biological.
Hybrid THR: Femoral stem is cemented, cup is Uncemented
How you Decide to Perform THR or HRA in Elderly Fracture Neck of Femur?
Elderly patients who are Community ambulator and expected to lead an active life are the candidate for THR. Whereas, patients who are home ambulator, sedentary life, medically not very fit for long surgery are the right candidate for hemi-replacement Arthroplasty.
What Is The Right Age To Consider This Surgery?
This Surgery is usually performed in the age group 50-80 years but, in selected patients and if the indications are right it can be performed as early as second & third decade of life.
What Are Different Types Of Materials/Articulations Used In THR?
Ceramic on Ceramic
Ceramic on Poly
Metal on Poly
Metal on Metal: discontinued/ withdrawn from the market
Procedure for Hip Replacement Surgery
Surgeon might give you a nerve block by injecting an anesthesia around the nerves or in and around the joint to help block pain after the surgery. The surgical procedure generally takes some one to two hours to get complete.
To perform the hip replacement surgery, the surgeon first makes an incision over the front or side of the hip, through the layers of the tissue. He then removes the diseased and damaged bone or cartilage, leaving the healthy bone intact. And then replaces it with an artificial joint made of metal or plastic to restore the alignment and function of your hip.
Hip Replacement Surgery Pictures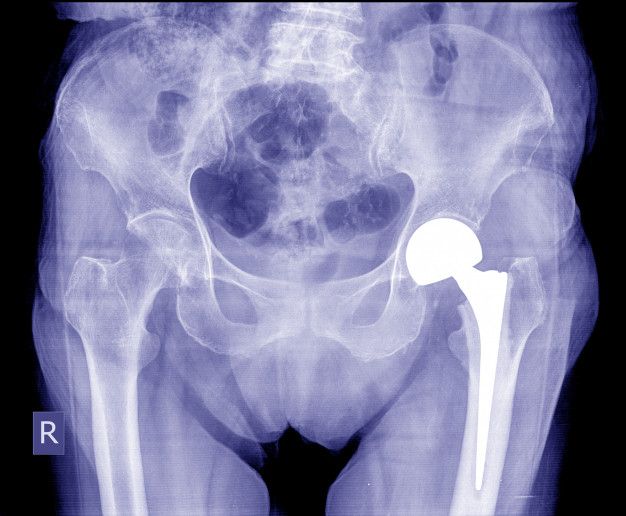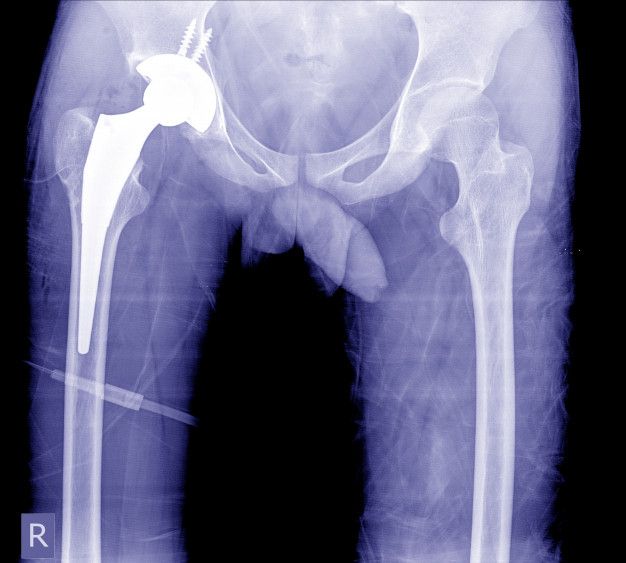 What Happens After the Surgery?
Immediately after the surgery, doctors keeps the patient in the recovery room for an hour. Once the vitals are stable, doctors shifts patient to normal ward. From the next day, doctors allow the patients to sit. Also, standing & walking with the help of walker as per pain tolerance is encouraged from the next day of surgery.
As a result, it takes approximately six to 8 weeks to walk independently without support.
How long the Hip implant last?
Depending upon patient activity level, it can last up to 20-30 years
What All Activities one Can Do After Total Hip?
Walking
Driving
Biking
Brisk walking
Golf
Table tennis
Lawn tennis
What all Activities one Can't do After Total Hip?
Squatting
Playing contact sports (Football/Cricket/Rugby/hockey)
Swimming
Running
Post Total Hip Replacement Precautions 
Patients should take the following precautions post Hip Joint Replacement Surgery:
Do not cross your legs when you are sitting, standing or lying down.
Sit in a firm chair with a straight back and armrests.
Avoid chairs that are too low. Your hips should be higher than your knees when you are sitting.
Avoid soft chairs, rocking chairs, stools, or sofas.
Try not to sit in the same position for more than 30 to 40 minutes at a time.
Lie on your back while resting in bed. Keep a pillow between your thighs to prevent your knees from touching.
Do not drive until your doctor says you may.
While bathing or showering, do not sit in the bottom of a regular bathtub. One may stand in the shower if they like.
If one follows all the above mentioned precautions committedly, then there is a chance of speedy Post Total Hip Replacement Recovery. However, Dr. Ramakant one of the Best Hip Surgeon in Patna, not only performs the surgery, but even assists his patient with Post-recovery process. In addition to that, his Hip Replacement Surgery Cost in Patna is also very much affordable as compared to other doctors' Hip Replacement Cost.
Why Dr. Ramakant Kumar is among-st the Top 5 Orthopedic Doctor in Patna
Dr. Ramakant Kumar is an experienced Orthopedic Doctor in Boring Canal Road, Patna. He has been a successful Orthopedic Doctor for the last 14 years. He has completed MBBS, MS – Orthopaedics, DNB – Orthopedics and is currently practicing at Advance Bone and Joint Clinic in Boring Canal Road, Patna.
Education
MBBS – LTMMC Sion Mumbai – 2006
MS – Orthopaedics – All India Institute of Medical Sciences, New Delhi – 2010
DNB – Orthopedics – National Board of Examinations, New Delhi – 2013
Dr. Ramakant Kumar, the Best Orthopaedic Surgeon Patna, Bihar, has developed an enviable reputation as a Hip Joint Replacement surgeon. He has successfully performed numerous cases of Hip & Knee Arthroplasty including revision surgeries.
He had the privilege of acquiring the requisite acumen and skills in orthopaedic surgery from prestigious AIIMS, New Delhi. Being one of the finest Patna Orthopaedic Doctors, he has successfully introduced and integrated newer advances. This includes the usage of allograft in revision arthroplasty. Moreover, Navigation Technology in Total Knee & Total Hip Replacement and UKR.
Being one of the Top orthopedic surgeons Patna, he has done international fellowships in minimally invasive joint replacement surgery and Knee Arthroscopy. This he has done from centers of international repute in Seoul, South Korea and National University Hospital, Singapore.
His clinic's quality ratings are excellent amongst the other Popular Orthopaedic Hospital Patna. In addition to that his exceptionally low rate of complications and high patient satisfaction scores has renowned him the Best Orthopaedic Surgeon Patna.
Therefore, if anyone is looking for the best bone and spine hospital Patna Bihar, then they must go for Ramakant Kumar. This is because he is a popular Hip Replacement Surgeon in Patna, Bihar who performs Low Cost Hip Replacement Surgery.
So, here finally ends up all about Hip Joint Replacement Patna.
Hopefully you find the page helpful for you & came to know why Dr. Ramakant Kumar is the best Total Hip Replacement Doctor in Patna.
So, if you are looking for orthopedic doctor or Bone Hospital in Patna. Then it is highly advisable to choose Dr. Ramakant Kumar's, as he is the best Hip Replacement Surgeon in Boring Road, Patna…