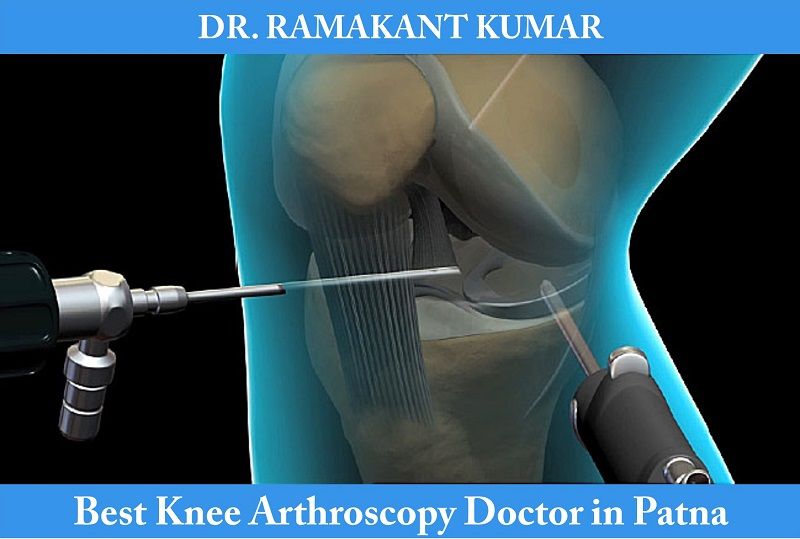 Looking for the best Knee Arthroscopy Doctor in Patna, consult Dr Ramakant Kumar. To know why he is the best Knee Arthroscopy Surgeon in Patna, have a look at this blog……….
But before that let's gain some insights about what is knee arthroscopy, its procedure of surgery and complications associated with the surgery……………..
Knee Arthroscopy is a surgical procedure that helps to diagnose and treat problems in the knee joint. Knee arthroscopy can be used as a very accurate tool to diagnose knee diseases.
This is a minimally invasive technique; very small incisions (<1cm) are used to pass Arthroscope (a type of endoscope) in to the knee joint. Inside of knee joint images are then visualized on TV monitor.
As a therapeutic tool it is used in the management of following knee pathologies
ACL ligament reconstruction
PCL Ligament reconstruction
Medial and lateral meniscus repair/Menisectmy
Arthroscopy assisted MPFL reconstruction
To remove any loose or foreign body from knee joint
To treat any cartilage pathology (Micro fracture/Mosaicplasty/ OATS)
PVNS
Knee arthroscopy has been proved a boon in sports injuries. In addition to that, blood loss during surgery is minimal, recovery is quick and patients can go back to their previous level of sporting activities in a short span of time.
Arthroscopy diagnoses several knee problems, such as a misaligned patella or a torn meniscus. This surgery also helps to repair the ligaments of the joints. However, limited risks are associated with this procedure and the outlook is generally good for most of the patients.
This surgery may be helpful in diagnosing a range of problems, including:
Persistent joint pain and stiffness
Damaged cartilage
Floating fragments of bone and cartilage
A build-up of fluid which has to be drained
Most of these cases needs knee Arthroscopy. People might choose this surgical option instead of other surgical procedures.
This is because arthroscopy involves:
Less tissue damage
A faster healing time
Fewer stitches
Less pain after the procedure
lower risk of infections due to smaller incisions
If you are looking for the best Knee Arthroscopy Doctor in Patna, then you must consult Dr Ramakant Kumar. He has performed numerous surgery for Total Knee Arthroscopy Patna using advanced technology coupled with expert surgical skills.
Why there is The Need for Knee Arthroscopy?
Knee arthroscopy surgery cannot effectively treat all causes of knee pain.
However, some of the reasons to perform knee arthroscopy surgery include:
Torn anterior or posterior cruciate ligaments
Torn meniscus (the cartilage between the bones in the knee)
Patella that's out of position
Pieces of torn cartilage that are loose in the joints
Removal of the baker's cyst
Fractures in the knee bone
Swollen synovium (the lining in the joints)
Dr Ramakant Kumar, Best Arthroscopy Surgeon Patna, is highly dedicated and devoted to perform invasive Arthroscopic Knee Surgery Patna at an affordable cost.
Therefore, it makes sense to choose Dr Ramakant Kumar because of his affordable cost, over other Doctors for Arthroscopy in Patna.
What Happens During A Knee Arthroscopy?
Knee Arthroscopy Surgery is done under general, regional or local anesthesia. After giving adequate anesthesia, the surgeons will create "Portals" to gain access to the knee joints. These portals are placed in specific locations to minimize the potential for injury to surrounding nerves, tendons, and blood vessels.
Through one portal a camera is placed into the joints, and through others, small instruments can be used to address the problems. The length of the Knee Arthroscopy Surgery depends on what the doctor needs to accomplish.
However, in most cases, the procedure takes less than an hour. After the completion of the surgery, the knee will be wrapped in a soft bandage.
Post-surgery, most patients have to work with a Physical Therapist to regain motion and strength of the joint. The length of rehabilitation also varies, depending on what procedure performed during the time of surgery.
Being the Best Arthroscopy Doctor in Patna, Dr Ramakant Kumar is well versed in all surgical procedures of Keyhole Surgery Knee and Total Knee Arthroscopy Surgery. Also, he has performed numerous cases of Knee Arthroscopy along with Arthroscopy Ligament Surgeon in Patna, Bihar.
What Are The Risks Associated With A Knee Arthroscopy?
Like other surgeries, knee Arthroscopy also poses some risks, though serious complications are uncommon.
During the surgery, a person may have excessive bleeding along with an increased risk of infections. In addition to that, the use of anesthesia also comes with a risk. In some people, it may cause breathing difficulty and some allergic reactions.
However, some specific risks associated with the knee arthroscopy include:
Bleeding inside the knee joints
Formation of a blood clot in the leg
Stiffness in the knees
Injury or damage to the cartilage, nerves of the knees, ligaments, or blood vessels
Infection inside the joints
Because of the exceptionally low rate of complications and high patient satisfaction scores, it is better to choose Dr. Ramakant Kumar as has renowned Arthroscopy Surgeon Patna.
What is The Recovery like after the Knee Arthroscopy?
Recovering from knee Arthroscopy surgery is usually quicker than recovering from open surgery.
Therefore, most people leave the hospital on the day of operation with some specific instructions about how to handle recovery.
General recovery tips can include:
Keeping the leg elevated for several days after the surgery
Applying ice packs to the dressing and the surrounding area to reduce swelling and pain
Resting well and often
Changing the dressing regularly
Using crutches along with following the doctor's recommendations about applying weight to the knee.
Dr Ramakant Kumar, being the best Knee Arthroscopy Doctor in Patna, will even assist his patients' post-surgery to recover as soon as possible.
Dr Ramakant Kumar – Top Arthroscopic Surgeon Doctor in Patna
Ranked amongst the top 5 Orthopedic Doctor in Patna, Dr Ramakant Kumar is the best Knee Arthroscopy Doctor in Patna. He had the privilege of acquiring the requisite acumen and skills in Orthopedic surgery from prestigious AIIMS, New Delhi.
Being the finest Knee Arthroscopy Surgeon in Patna, he has done international fellowships in minimally invasive joint replacement surgery and Knee Arthroscopy. Also, his clinic's quality ratings are excellent amongst the other Knee Arthroscopy Specialist in Patna.
In addition to that, he has done international fellowships in minimally invasive joint replacement surgery and Knee Arthroscopy. This he has done from centers of international repute in Seoul, South Korea, and National University Hospital, Singapore.
Upon searching for the Best Orthopedic Doctor in Patna Quora also, you will get to know that Dr. Ramakant Kumar is the Best Knee Arthroscopy Doctor in Patna.
So, if you residing near the boring road, Patna and in search of Knee Arthroscopy Doctor in Patna, contact Dr. Ramakant Kumar……..
To know more about Dr. Ramakant Kumar, visit his website……..